News & Views

19 January 2023
Muddy play and why it is worth getting messy
Mud, mud, glorious mud... As the song goes, there's nothing quite like it for cooling the blood. But at this time of year, when the temperature drops and the rain keeps coming down, it's good to find other ways to enjoy the inevitable mud. The most obvious place to start is to ensure that anyone playing in mud is suitably dressed.
Grounding mindsets
It is not necessarily a given that all children will relish playing in the mud. Perhaps their caregiver has discouraged it consistently to this point and the child feels it is something to be avoided for fear of getting dirty. It's understandable and can take time to override. Equally, some children don't enjoy the experience of touching mud for various reasons. While this might be impossible to overlook, it can be worth persevering gradually over time, for the benefits of playing in mud are varied.
The benefits of muddy play
The most obvious aspect of mud play is that it (usually) takes place outdoors and this comes with a wealth of known benefits for children.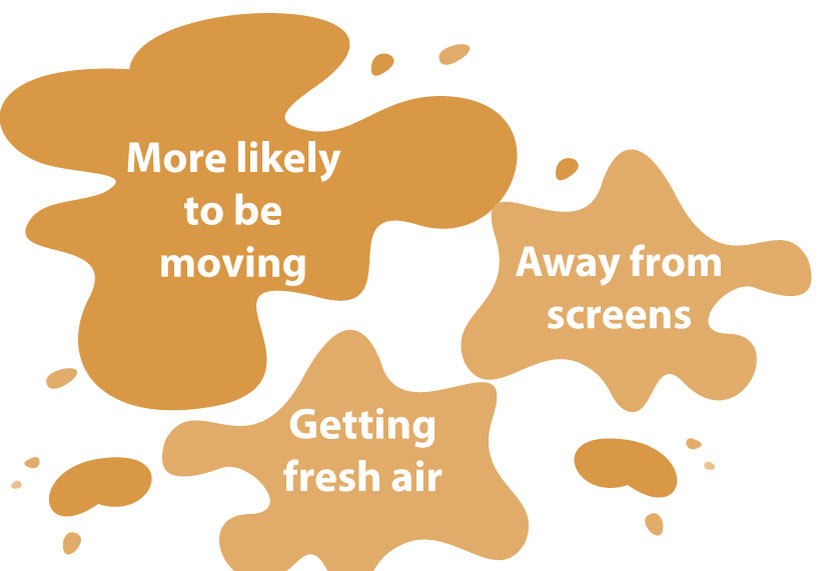 Playing in the mud is a very beneficial way for children to learn about their surroundings, nature and themselves. They can relax and use mud play as a means to express themselves creatively.
Muddy play can also encourage a wider range of vocabulary by using descriptive words like squidgy, oozy or squelchy. Children can play in the mud and notice how it feels, what noises they can make in it or with it as well as what they can create with it. Playing in the mud can also support children with their sensory play by helping them develop some tactile skills.
If children are introduced to the delights of mud from an early age (under one is fine), they can gradually build up their immune systems and could be less vulnerable to some allergies and illnesses. Just ensure that children don't consume too much mud, but a bit on their hands won't do any harm. It's a good idea to offer children somewhere to wash their hands after playing with mud. There is also some research to suggest how playing in the mud might even increase the diversity of particular 'friendly' bacteria in the body.
Seven ways to try using mud to your advantage
Start a mud kitchen. This is commonplace in many early years settings and for good reason. It is a great way to offer children the chance to explore the textures and smells of mud; how it reacts when mixed with water or when other natural objects are mixed into it. It is an activity that is meant to be muddy and there are no age limits!
In the mud kitchen or wherever you can host an area dedicated to mud, encourage children to make mud into different shapes. They might like to have a mud café, where they can serve mud-inspired dishes, like mud cakes, soups, stews and pies.
Mud can be used to construct all kinds of structures, from mud bricks to towers or castles. Give children the time and space to be creative with their designs. Some children can take a long time to start thinking about and then creating in mud, so ensure they have plenty of time to ponder and explore.
If children become attached to their mud creations, consider dedicating a small space to children's designs where they can be kept. Noticing how mud dries over time is another interesting way of exploring mud and how it behaves.
Encourage children to view mud as a life force. It is what trees, plants and fruit/vegetables grow in and it hosts thousands of creatures that support plant life and feed larger animals. It is an amazing source of nutrients and needs to be nurtured.
Offer children the chance to mix mud with other available natural items. Encourage them to consider what they can create with some mud, pine cones, acorns, sticks and other natural materials. Perhaps they would like to make mud faces on the bark of trees or maybe a mud collage on a hard surface. The great thing about mud play is that children usually have many more ideas than adults, so leave the creative drive to them!
If being in a large muddy area feels too much for adults or children, mud can be collected in buckets or bowls and played with on a smaller level.
The thing to remember about mud is that it can be washed off. It's not a permanent fixture and the benefits of playing with it can usually outweigh the possible inconveniences. It is a source of great interest to children of all ages and deserves a bit of time in the limelight!
Promote positive approaches to outdoor learning with the Outdoor Learning Award which offers a range of extracurricular outdoor learning opportunities for your pupils.
 
About the author


Joanna Feast is an education consultant specialising in PSHE education across the age ranges. She is also the founder of Clean Wellbeing and author of the Outdoor Learning Award.

 
Muddy play and why it is worth getting messy