News & Views

20 October 2022
Paws for thought: How school dogs impact pupils' wellbeing
School dogs have the potential to benefit young people academically, emotionally and socially in a variety of educational settings.
If you're considering introducing a dog to your school, the charity, Dogs for Good, provides some useful guidance. This includes:
a practical checklist of considerations for having a school dog
what commitment and support you will need
providing an appropriate environment
ensuring suitable socialisation and training
dedicated support for your dog's welfare
adequate preparation with staff and pupils.
Sarah Stokes, Principal at Michael Hall School, shares an endearing case study about integrating her school dog, Bourbon and the pupil wellbeing benefits he's brought.
Here comes Super Bourbon!
The hall was hushed and expectant. The children were listening intently. Staff were smiling in anticipation of what was about to happen. Having introduced the concept of social responsibility and caring for each other, I now waited with the rest of the community while our newest member of staff was brought along to join us in the assembly.
 
The door to the hall opened and everyone turned to see who was coming. The gasps rippled through the children as they realised who it was. Or rather, what it was as it was very difficult to gain a full sense of the tiny ball of fur that was curled up in the arms of my colleague, bringing Bourbon into assembly for the first time.
 
As she passed him to me, he instinctively reached up and gave me a lickety kiss on my chin, which sent the children into a paroxysm of overwhelming delight and giggles. This was going really well. This assembly was preparing the groundwork for what I hoped would take our emotional support and wellbeing work for the children in our school to the next level. At just 15 weeks old, Bourbon was introduced as our newest (and youngest) member of the staff team and so his life as a school dog began.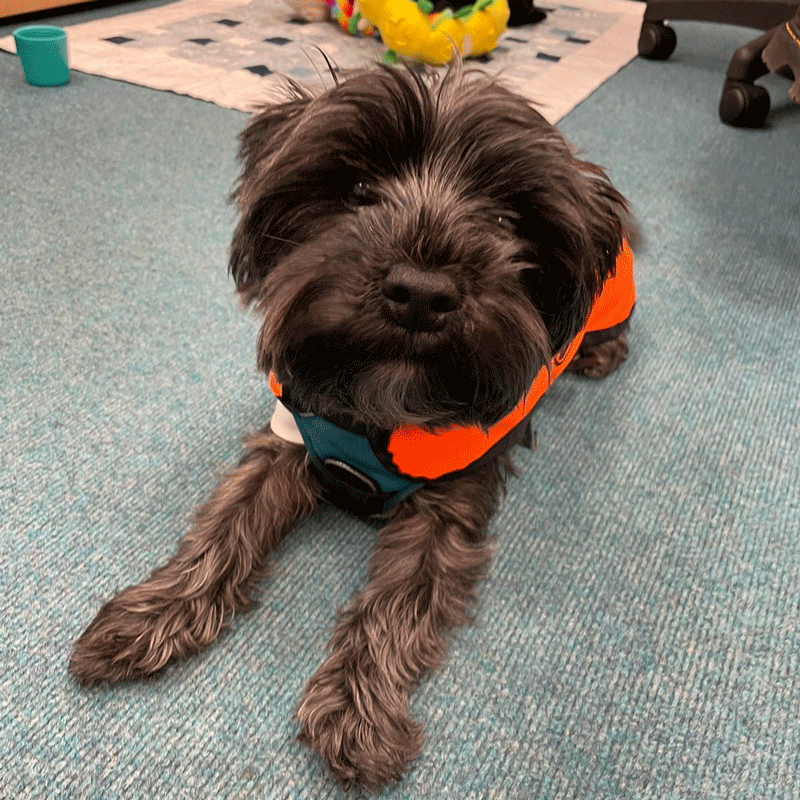 I brought Bourbon, my Yorkie-Westie-cross terrier into school in November 2018. When I first introduced him, I assumed that a policy, thorough risk assessment, specific public liability insurance and a letter to parents would be sufficient. Since then, dogs have become far more prevalent in schools in the UK and as a result, the training opportunities for ensuring that all aspects of emotional wellbeing, for both children and animals alike, as well as the legal and logistical aspects of welcoming a school dog on site, are now offered in far greater detail.
Bringing a school dog onto the staff team effectively
Initially, Bourbon was very much involved in our approach to positive behaviour reinforcement, through a range of rewards identified with a 'Golden Dog Ticket' scheme that the staff designed. Children could work towards gaining enough credits for their behaviour to be awarded a ticket, which they would present to me proudly at my office door in exchange for some time playing with Bourbon. He was an attentive listener and great modeller of 'good sitting' during whole class story time sessions and thoroughly enjoyed having a run around the school field as part of the calming activities we had in place to support some children with more extreme behaviour needs. 
Back to school for Bourbon
Following the COVID-19 lockdown, I was concerned that Bourbon had had such an extended break from working with the children that it would be prudent to have some official training to ensure everyone's ongoing safety as he returned to his day job. Little did I know at the time that this training would mark the turning point in the way that Bourbon was able to support the children in school.
 
The impact of school dogs on children's emotional resilience is well documented, but I had not anticipated how working with Jenny Duckworth, The Dog Mentor, would expand our intervention programme across the school. Bourbon helps children in numerous ways:
inspiring their written skills (they write stories about him)
practising their arithmetic (pupils count out his treats and ensure he has enough toys out to play with during the day)
speaking and listening (training Bourbon requires using a certain tone of voice)
with their food intolerances (Bourbon loves cucumber, now you try; Bourbon is less keen on apple, but you love it!).
Encouraging self-regulation
Bourbon also supports pupils with their self-regulation and self-control strategies. To encourage punctuality, he welcomes the children into school every morning at the gate, smartly dressed in his highly visible orange work tabard. A couple of identified children have had Bourbon included in their support plan for improving their attendance and punctuality, where they need to arrive at school a few minutes early in the morning to help me set up Bourbon's play, water and rest areas for the day.

The whole school is trained in 'Bourbon breathing', which enables everyone to regulate their breathing to a point where the classroom is calm enough for Bourbon to come in and join the lesson. He doesn't like loud noises or overexcited behaviours, so we keep these to a minimum when he is around. He is present at the weekly SATs revision club, during SATs week and at the after-party in the local park, which was fundamental to how the children conducted themselves with such resilience and positivity. It's amazing how quickly every tiny piece of rubbish can be cleared from the classroom carpet before he enters a room, as no one wants him to find something and choke on it. Collective responsibility for Bourbon's wellbeing has become completely embedded in our school life.
School dog blog

Another way that Bourbon engages pupils is through a blog, where we catalogue his adventures outside of school in Bourbon's Blog. This has proved to be a wonderful platform for the older children to feel a connection with Bourbon, as they can comment on the blog or talk to him about it when they see him back in school the following week. The impact of his blog has been profound, especially for those children who are finding their voice through Bourbon's narrative.
 
I recently joined another, much larger school, which already has a school dog in this role. So Bourbon is currently taking a sabbatical while the Dog Mentor is training the other dog and we begin planning for both dogs' roles in the support of children's wellbeing, resilience and learning across the entire school.
 
For more ideas on how to support and improve physical, emotional and mental health for all pupils, check out the Pupil Wellbeing Award.

About the author


 
Sarah Stokes is an experienced school leader with nearly 30 years of professional teaching experience, based mainly in London and the south-east of England. Her key professional interests include supporting the mental health of a school community, creating irresistible curriculum learning opportunities, working effectively with parents, exploring neurodiversity, developing positive behaviour strategies and reducing the impact of complex trauma on children.
 
Bourbon may have had fewer years' experience of working in schools but can demonstrate just as much impact on school communities.
Paws for thought: How school dogs impact pupils' wellbeing