News & Views

24 November 2022
Branch out with Tree Dressing Day for your outdoor learning
Who is ready for a new teacher trend? Tree Dressing Day is on Thursday 1 December and it's an excellent opportunity to connect children with nature while making many cross-curriculum links. As a teacher, speaker and author, I am up for any opportunity where I can get my class and my own children outside, connecting with nature! The mental and physical benefits are enormous and it pulls us all back to the simple delights in life.
Common Ground created Tree Dressing Day in 1990 to help communities to take a moment to appreciate the trees around them. It is now celebrated across the world and gaining popularity in schools, nurseries and pre-schools.
Before you start...
If you are tying anything to the tree, use ribbon over string. String, over time, can embed itself into the tree branches and harm the tree. Ribbon is often thicker and silkier and moves on the branches to prevent this from happening. Also, try not to use anything that will fall off the tree and litter the surrounding area that could harm the animals inhabiting the surrounding areas, such as paper, laminated sheets or microplastics like glitter.
Here are some tips to fill your Tree Dressing Day with incredible learning opportunities.
Tweetie tacos
Gather up some porridge oats, lard and string and head outside. Place two bowls on the floor, one with porridge oats and one with lard and place the string by the side. Invite the children to stand in a circle around the bowls. First, show the children how to make a 'tweetie taco' by taking a handful of oats and a handful of lard. Squish the ingredients together. Then make them into a flat pancake and wrap them around the string like a taco. Choose a few children at a time to come and get their ingredients and then head back to their spot in the circle to make their tacos. Once everyone has created their tacos, head to a tree and hang them on the branches. Keep heading back over the next few days to see if any visitors have arrived.
Soulful socks
To prepare for the event, ask children to bring in an odd sock. Once you are outside, ask the children to walk around and find natural treasures to put in their socks as a gift to the tree. Ask for only light objects. Using scissors or a pencil, puncture a hole in the top of the sock. (Adults, you may have to help younger children with this). Thread some ribbon through and tie it onto a tree.
Forever friends flags
When planning for the activity, ask the children to bring in old clothes. These can be unused or unwanted clothes that parents are happy for you to cut up. Alternatively, source some from charity shops.
First, allocate a tree you will dress and ask the children to suggest a name for your tree. Put it to a vote with the most popular name winning. Explain to the children that you are going to make a 'thank you flag' for the tree. Use the fabric to create a 'forever friends flag' for your tree, using the name you all voted on. For example: 'Thanks for being awesome, Fred!'. Younger children could just draw pictures.
You could create a patchwork together, cutting multiple squares of fabric and sewing them to make one flag. Or the children could cut out a rectangular shape and use felt tips pens to create a flag for their tree. Acrylic pens work the best and will not wash off in the rain. Make a hole in the corner using a pencil. (Younger children will need adult supervision with this.) Thread ribbon through and attach it to your tree. If time is tight, children could do this project at home and bring it in on the day.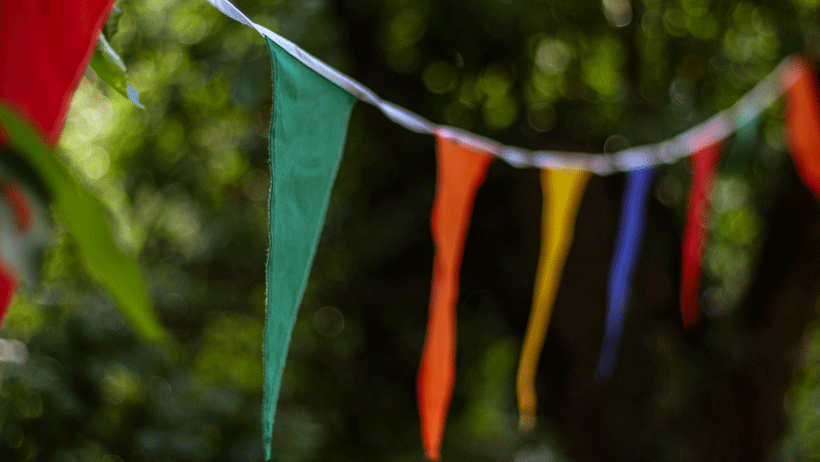 (Photo: Manuel Hoster on Unsplash)
Crafty clay
Go outside and find a tree to dress. Hand out some clay, ask the children to make a long worm, and then press it to the tree's bark. The clay should now be attached to the tree. Ask the children to then create a pattern on the clay by tearing up little bits of leaves or using other natural materials found around them, such as bark, leaves and stones. Older children could make longer and more complicated patterns. This will create a lovely, natural effect on the tree's trunk which should make any tree smile.
Five ways to appreciate our trees
Some of you may choose to do one of these activities and take 15 minutes out of your day to embrace Tree Dressing Day while others may spend a whole day trying all the activities. It is down to you, but do ensure you imbue a bit of purpose about why you are doing this and talk to the children about that. Areas you could mention are:
Trees help us to breathe.
Wood and paper all come from trees. If we used less of these, fewer trees would be chopped down.
Trees are also essential for creating habitats for minibeasts, birds, mice and other creatures: without trees, there would be very few places for them to live.
How can we help to care for our trees?
How could we care for trees out of our school or nursery grounds?
For more practical and creative suggestions to get pupils engaged with outside activities, check out the Outdoor Learning Award.
About the author

Sarah Seaman is the founder and CEO of The Muddy Puddle Teacher. She has a deep-rooted connection with the outdoors and this is entrenched in her work as an award-winning teacher, trainer and presenter. She has recently authored a book, The Muddy Puddle Teacher: A playful way to create an outdoor early years curriculum.
Branch out with Tree Dressing Day for your outdoor learning